Reps
Lexington Home Brands has a dedicated sales team to serve the hospitality and contract markets. To see information regarding your local representative, click on the map below. For international hospitality and contract information, click here.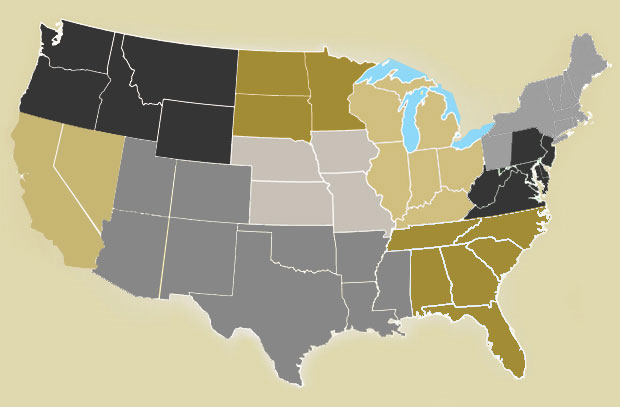 Click a region to display the representative for that region.


California / Nevada
Contract Business Group
Tel: (866) 435-8871, X301 or (336) 285-0970
Fax:(336) 834-9751



Great Lakes:

MI, WI, IL, IN, OH, KY
Mr. Jay Dickenson
Tel:
(513) 509-3600
Cell:
(513) 509-3600
Fax:
(513) 231-3722


Mid-Atlantic:

WV, VA, MD, DE, NJ, NY
Marvin J. Perry, Inc.
Tel:
(301) 949-1301
Cell:
(703) 966-1943
Fax:
(301) 949-1304


North Central:

MN, ND, SD
Mr. Alan Erickson
Tel:
(612) 868-3304
Fax:
(651) 686-8988


Northeast:

ME, VT, NH, MA, CT, RI, PA, NY, NJ
Contract Business Group
Tel:
(866) 435-8871, X301 or (336) 285-0970
Fax:
(336) 834-9751


Northwest:

WA, OR, ID, MT, WY
Ms. Cecilia Ironside
Cell:
(253) 988-1472

Fax:
(336) 474-5632


Mid Central:

NE, KS, IA, MO
Ms. Gail Miney
Tel:
(713) 355-7774
Cell:
(713) 540-7776
Fax:
(713) 355-7775


Southeast:

TN, NC, SC, GA, AL, FL
Contract Business Group
Tel:
(866) 435-8871, X301 or (336) 285-0970
Fax:
(336) 834-9751


Southwest:

UT, AZ, CO, NM, OK, TX, AR, LA, MS
Ms. Gail Miney
Tel:
(713) 355-7774
Cell:
(713) 540-7776
Fax:
(713) 355-7775