Happy New Year! For many of us, January is a month devoted to fresh starts and new beginnings. At Lexington Home Brands, since we're in the business of great design for the home (and most of us around here love nothing more than to talk about great design for the home with like-minded fans), we've resolved to celebrate the start of 2012 by opening up the lines of communication. So welcome to our new blog! We're glad you found us! As we move forward, our goal will be to focus on sharing design ideas, the inside scoop from the team of talented people behind the brands that make Lexington a leader in the industry, and (we hope), insights from many of our friends in the trade. (Guest blog anyone?) Since January is about fresh starts, we put our heads together and decided that we ought to devote our first post to a.) introducing ourselves, and b.) the home office. We realize that reading this blog suggests you're taking, shall we say, a brief respite from the workday, and we figure there's a good chance you may be working from a computer located somewhere in your home.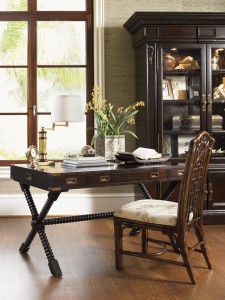 At Lexington Home Brands, we spend a lot of time researching the way people use their homes. So we know that a dedicated home office space is now considered an essential element of the modern home, whether you run a home-based business, telecommute, work freelance, or simply need a place to pay bills or for children to study. We asked our designers to give us their thoughts on creating home offices that work, whether you're able to devote an entire room to a business, or are simply carving out a corner of your kitchen for a small work area. Here are a few pointers: "Everything starts with choosing a suitable space for your individual needs," says Linda King, director of interior design. "Before you can invest in appropriate furnishings, take time to honestly assess how you will be using the space." "For example," King says, "a space with a door that can be closed may be important for those with small children who make their living at home, especially if your productivity depends on your ability to escape interruption. Also, in choosing a space, I would consider whether you will be entertaining clients. If so, you'll likely need to consider a seating area that can accommodate other people and/or consider what their impressions will be of your work environment. Finally, even if your goal is a paperless office, the reality is that most of us still require plenty of adequate storage space. In some cases, that may mean you may need to designate an 'archive' area in another part of your home."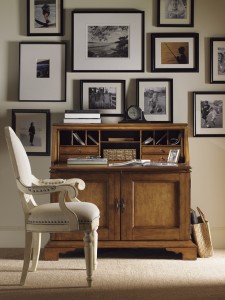 After you've decided where your office will reside, it's time to consider investing in appropriate furnishings. "As I see it, that's one of the benefits of working from home," says King. "You have the ability to make your office uniquely yours and really express yourself, from the desk you choose to the paint on the walls. The key to making it work is assessing your work style: How do you work most comfortably and efficiently? For many people, a desk, a good, comfortable chair, a computer with an Internet connection, a printer and a phone will do the job. However, depending on the type of work you do, you may also need adequate shelves nearby."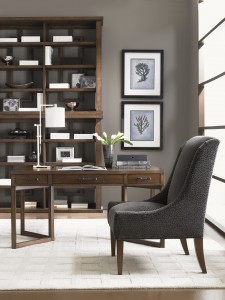 "As a designer, I've got all kinds of binders and catalogs that I use for reference. For me, bookcases are a must!" says King.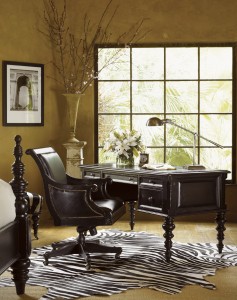 "The most important piece of furniture in any home office is the desk," says King.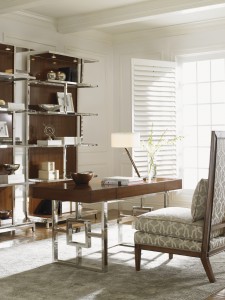 458-933: The Mirage home office features drawers that open easily without hardware and an open fretwork design in polished silver.
935-938: The Kingstown Port Royal Desk is a perfect port for any storm of creativity. The desk offers a leather top, plenty of storage, and keyboard tray.
Back to Blog