Incorporating the Colors of the Year in Your Décor - We've all seen the latest paint commercial touting color. A woman searching for the perfect purple is presented with a group of men painted in various shades until she finds "the one." Cue dreamy look and romantic music. If only it were so easy to identify color that we can live with in the long-term! Intellectually, we know that a can of paint is the fastest and least expensive way to transform a room. It's the commitment part of the relationship that so many of us struggle with. Says one well-known interior designer we know, "I can't tell you how many times I've walked into a friend's home and seen paint chips taped to a white wall. That's a great way to decide what color you want to live with, or how a color will appear in different light at various times of the day. The problem is, I walk in months later, and the same chips are still taped to the same white wall!" Given how important color is to the look of our homes and the power of color to impact our emotional well-being, it would make sense to get a handle on how to decide what's hot, what's not, and whether you're ready to commit. First, a look at the color of the year: In no uncertain terms, the hottest hue on the color wheel is a vivacious reddish orange that packs a citrus-y punch. Just ask Pantone, one of the acknowledged authorities on the subject of color. They call the shade of the moment "Tangerine Tango" and it's showing up everywhere from tabletop accessories to textiles to the clothes we wear. Products that pack punch--orange is the juice that enlivens and energizes. Add just a shot to existing decor and the furniture and artwork you already own will instantly look completely different. Here, an orange gentleman's chest from Lexington Home Brands.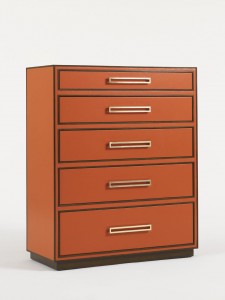 If orange isn't your thing, but you're the type who likes to ride the latest fashion wave, you might look to purple, and specifically, according to the Color Marketing Group, a deep rich purple with slight red undertones called "Boyz-N-Berry," also known as plum.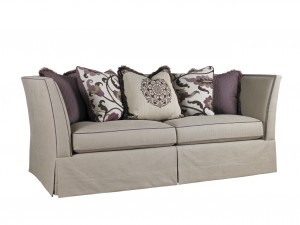 Intimidated? Don't be. "Realistically," says upholstery merchandiser Amy Huff, "people everywhere are using color in small ways. They are painting an accent wall. They are finding a new lamp that has blue and yellow and orange. They are replacing their old neutral pillows with pops of color. Maybe they are changing a chair. In upholstery, we're seeing more neutral body cloths with pops of color. In our case, we've used Tangerine Tango in more subtle ways; the ways we think consumers will use it. I'm not sure a lot of people will buy an orange sofa, but I do think they'll change out the pillows on a neutral sofa from year to year."
Back to Blog