Lexington Spotlights Key Trends at the World's Largest Home Furnishings Market - Like Fashion Week in New York is to the apparel industry, Market Week in High Point, North Carolina is to home furnishings. It's exciting, exhausting, and the absolute place to be if you're in the business. Think of it as the industry's runway for the gotta-have-it looks of the season. As a trade-only show, the new products rolled out in High Point won't show up in stores for another six months or so. The good news is that our readers don't have to wait to find out what went on at Lexington Home Brands. As one of the fashion leaders, we've reserved your front-row seat right here. So sit back, assume your best fashionista pose and prepare to get the scoop on the hottest trends and to-die-for looks! New Now: New Traditional The Market, the watch-word on everyone's lips was "new traditional." Defined as the art of blending the fresh with the familiar, new traditional styling incorporates classic lines with new design elements, rich finishes and exciting fabrics that totally update the look. During Market Week, new traditional got an entirely new bell-weather: a collection called Quail Hollow. "It seems that in every major business cycle, there comes a point in time when consumers' attention is drawn back to the comfort of familiar lines," explains marketing manager Shannon Baugh. "There is clear evidence of that trend across a broad spectrum of interior design work being done today, and it comes as no surprise, given the economic challenges of the last several years. Consumers are looking for a safe-harbor, and their home represents that place of refuge."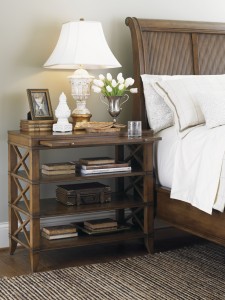 According to the design team here at Lexington, "normalized scaling" is a key trait in new traditional styling. In other words, the huge, over-sized furnishings we've seen in recent years may be on the wane. For this reason, the scale of the wood pieces in the Quail Hollow collection is intentionally moderate. As for what else to watch for, Amy Huff, upholstery merchandiser says that upholstered seating in the Quail Hollow collection showcases exceptional tailoring and luxurious comfort. Details include carved legs, button tufting, brass ferrules and casters, and custom nail-head trim.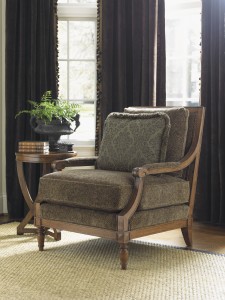 New traditional fabrics are decidedly less formal than typical traditional styles, with a comfortable layering of stripes, plaids, herringbone, houndstooth and paisley patterns. Overall, the look has a tailored menswear feel, with a relaxed vibe. It feels good too: several fabrics have a brushed surface, giving them a velvet-soft hand. Elegant Simplicity In other emerging design trends this Market, the key phrase was "elegant simplicity," which experts say is a response to all the technology enabled overload in our lives. This in mind, Lexington's new lifestyle collection, Monterey Sands, was right on target. "There is no denying the passion and desire of today's consumers to simplify their lives and their surroundings," Baugh says. "In all facets of interior design, we are seeing the use of pleasing neutral backgrounds and lighter wood tones to create an environment that is intentionally more pleasing to the eye and the soul. The casual elegance of transitional style resonates with great effect in these designs."
Monterey Sands is crafted from Grey Elm veneers, gently wire-brushed to highlight long, elegant grain lines. It blends the comfortable understated style of the West Coast with natural elements, decorative metal accents, and a unique finish that delivers a fresh look -- setting an exciting new direction for the transitional style category. Designs incorporate the natural look of woven rattan, finished on the edges with decorative leather welting, anchored with bronze nailhead trim. Certain items, like the Cypress Point bed, showcase a striking horizontal louvered design. The collection also features three unique home entertainment options, including a generous media console, a dramatic and functional stacking unit, and a contemporary media tower configuration.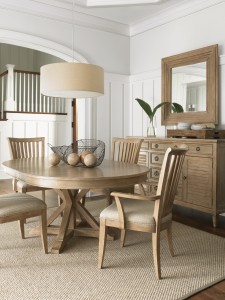 The ability to achieve harmony in transitional room design often rests on the effective blending of upholstered seating with the major furniture pieces. Monterey Sands upholstery features clean transitional styling, exposed wood frames, and accents of woven rattan with decorative nailhead trim. Soft curves and plush, relaxed cushioning are signature elements, with a color palette that combines neutrals in taupe, ivory, and grey with soft organic blues and greens.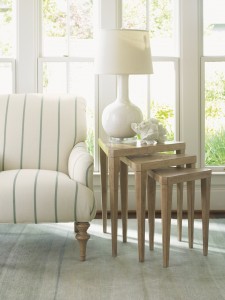 Back to Blog